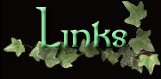 (aka my bookmarks)
General


Official: www.buffyupn.com


Buffy Guide . Com - Complete episode guide with every detail analyzed.


Little Willow's Slayground - Frequently updated with everything you could want to know about the Buffy cast.


Much Ado About BtVS - Beautiful large pictures and great graphics.


Buffy Online - Awesome site with amazing galleries and frequently updated.


The Realm of Soft Delusions - Always very pretty in design, up to date, good sections.


Sonja Marie's BtVS Links - The source for Buffy links.


The Buffy Cross & Stake - Great updates with the episode guide and good galleries.


Watchers Web - Loads of info about the show, books, merchandise, episode, everything.


The Shaggy Dog Tales - Lots of fun, visit VR BtVS rooms among many other fun sections.


Ange-of-Earth - Really good picture gallery with hq pictures.


The Cheese Stands Alone - Gorgeous layout, frequently updated and full of good content.


BuffyThankYou.Com - Expresses your thank yous to the cast and crew on their forum. Submit fanart and let everyone know much you appreciate this show over the years.
Sarah Michelle Gellar


Official: None yet


SMGFan.com - Under new management and running smoothly!


SMG -P i X.com - A very well run site with loads of SMG pictures.
James Marsters


Official: www.james-marsters.com


JamesMarsters.Com - Great layout, pictures, info and more.


Spikespotting.com - Great layout, tons of info, frequently updated.
Alyson Hannigan


Official: None yet


Alyson Hannigan Corner - Some great pictures from unheard of magazines.


Alyson Fan - Great layout, new pictures and often updated.


Hannigan.COM - Lacking in updates but it is a great resource for Alyson stuff.
Eliza Dusku


Official: None yet


ElizaDushku.Org - Awesome content, tons of info and always updated.


Everlasting Eliza - The brainchild of Little Willow and Raven. The best webmasters in one site, what more could you ask for?
Nicholas Brendon


Official: www.nickbrendon.com


Nicholas Brendon: The Devotion - Great layout and plenty of updates with pictures, news, etc.


Key Guy - Beautifully designed and full of great content.
Emma Caulfield


Official: None yet


Emma Online - Nicely sorted, simple but good layout.
Amber Benson


Official: www.celebrityblvd.com/amberbenson/


Essence of Amber - Excellent source, plenty of pictures, news, fanart, etc.
Michelle Trachtenberg


Official: None yet


Be Back Before Dawn - Excellent sources, tons of info, pictures, fanart, articles, etc.


Michelle Trachtenberg Network - Great source for pictures rarely found of Michelle.