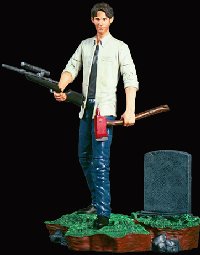 Xander - Series 3
Sculpted by Dene Mason & Curt Chiarelli
General Info
A regular Xander figure that is only available on card.
Description
Xander is wearing a dark shirt with numbers printed on it which is covered by a light grey button up shirt. He's wearing blue pants and black shoes. He comes with a tranquilizer gun, axe, two stakes and a custom base.
Buying Info
Ebay is your only bet now. Goes for roughly $20 - $25.
The Good
Decent likeness I suppose, though I tend to think the hair is a bit too long. The clothes are very Xander-like though. The chest area is especially well sculpted, and the shirt grooves in and out as would normal clothing.

I'm pretty sure there's a 69 printed on Xander's shirt, which I thought was hilarious.

This is one of the more solid graveyard bases (it's huge) and Xander's tombstone features the awesome quote of "I laugh in the face of danger, then hide till it goes away."

The Bad

The hands have to be the most aggravating parts of this figure. In the nice photos from Moore's site, they show him holding that rifle and axe. Yeah right. The hands are sealed all the way around and the only thing you can get through them is a stake. Very, very annoying.

I don't really like the way this figure's stance is. It seems very unlike Xander. That's only a personal quibble though.