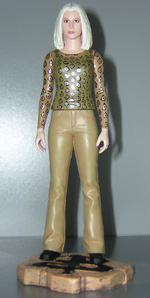 Click for a larger pic
SERIES 5 - Dark Willow
Sculpted by Clayburn Moore
General Info
White Witch Willow. Super exclusive figure that was only available boxed for a short time but then slowly came out on card (which is much cheaper.)
Description
Willow's dressed in her outfit from the series finale, Chosen. Yellowish pants, shiny green and silver top, white hair and comes with a scythe. Rocky yellow base with a big Buffy B emblazoned on it.
Buying Info
If you're not an avid collector and don't care which figure you get, I recommend buying the carded figure because it's a good $50 less than the boxed figure. Plus the boxed figure might turn out to be a preproduction figure which are more expensive.
The Good
Beautiful repaint and the detail on the shirt, including undershirt AND silver painting really add to this figure. I love that she comes with the scythe (although it's super flimsy, so try not to manhandle it too much or it'll snap in half.)

The base is a nice touch too because it pays homage to the Series 1 Buffy B bases (although this one looks loads cooler.)

Aside from the hair, this is one of the better paint jobs in Series 5.

The Bad

I really wish they'd made the hair longer, it wouldn't have been that hard to do.

The paint job done on the hair is pretty bad. I suspect they took one of the redhair painted Willows and dumped white/yellow paint overtop of it. If you look closely at the images on the right, you can see colour underneath the white hair where it looks like they tried to cover up old paint. Nasty mess.

The legs don't move, nor do the arms since there's no articulation there. She only rotates at the waist and her arms swivel up. If you try to make her hold the scythe while her arms stick straight up she looks sort of stupid.