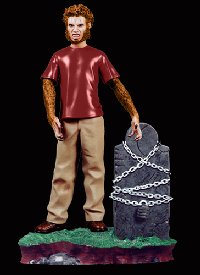 OZ - Series 2
Sculpted by Dene Mason
General Info
Variant figure. Comes on card.
Description
Oz is wearing a dark red t-shirt with cargo pants and red shoes. He's in a state where he's just about to transform into a werewolf. He comes with the same props as the regular Oz does: custom base, two pistol crossbows, a guitar and amp.
Buying Info
Soldout in stores as well as on Moore's site. Try Ebay. Prices vary widely there, from $9 to about $30 (USD). But thankfully, it isn't too expensive yet.
The Good
The detail in the face and the arms is really well done, it looks pretty damn close to what Oz looks like when he's changing. Obviously they wouldn't do a full werewolf figure, so this is as good as it gets.

I particularly like the hands and arms, their contorted perfectly to make it actually look like Oz is in pain while transforming.

One of the better variants because they didn't just do a colour change, they also changed his arms and face.

The Bad

The face is so well done that it's actually really creepy looking. Not necessarily a bad thing, but jeez is it ever weird to look at.

I wish he'd come with different acessories.